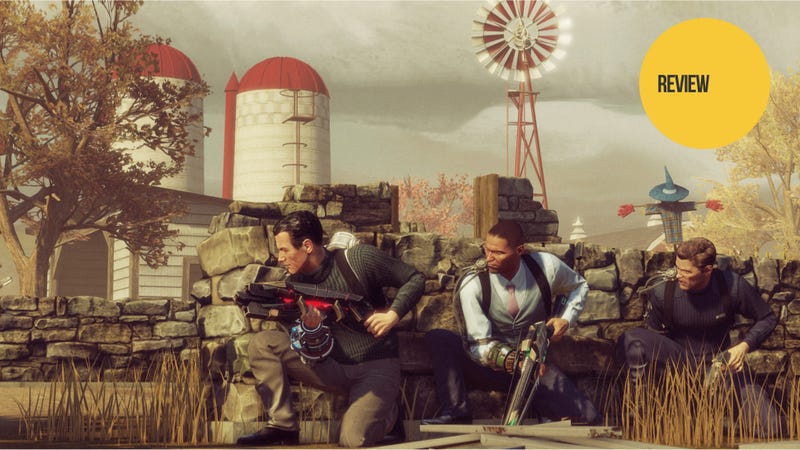 In an early mission of The Bureau: XCOM Declassified, a deer clattered across the pavement of a wrecked college town's main drag as I took my orders. It paused and looked at me, and I at it. Even before this invasion, that deer's world was under constant threat from death-dealing technology beyond its comprehension. What might it be thinking? I wondered. Am I really any different from these aliens?
William Carter, he of the Eastwood-squint and a voice dragged over sandpaper, is no passive creature, shocked into a trance by the dazzling lights of a frightening machine. He is, as he would be complimented later by an alien intelligence, someone who not only takes action, but also is gifted with a wisdom others do not have, leaving little wonder why he's the top field agent of the secret Bureau of Operations and Command—rechristened XCOM when the communist invasion envisioned by the United States in the early 1960s was replaced by an extraterrestrial one.
Smart decisionmaking has always been the essential tool of any game under the XCOM name, the beloved strategy title with a 20-year history, reborn with last year's Enemy Unknown. The Bureau introduces the need to act, skillfully and in real-time, through the perspective and controls of a third-person shooter. The result is tactical challenge that can be unrelentingly tough, and one where an obviously bad idea isn't as apparent from ground level as it is from a view high above an isometric battlefield.
As Carter, you go back to 1962, the zenith of ring-a-ding postwar America and its Cold War paranoia. Carter, a CIA agent, is a courier bringing a mysterious package to the paranoid chief of The Bureau at a location called Groom Range—an obvious reference to the infamous Area 51 (Groom Lake ). An alien infiltrator releases whatever is inside of it, imbuing Carter with the strange ability to heal himself (and others), and a preternatural ability to see a battlefield and command allies on it.
The most obvious comparison of gameplay, made repeatedly in the two years since this game was first shown, is to Mass Effect, but only to a point. You will spend vastly more time issuing commands to your two operatives than in a game like Mass Effect, where you could let teammates fight according to their AI and occasionally butt in to call on a special skill. In The Bureau, your operatives won't do much on their own other than fire on anything in range and move when their position is overrun, though occasionally I would see an agent take higher ground on his own.