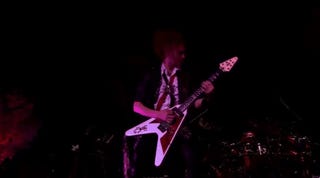 I haven't seen many performances like this in service of anything, let alone dedicated to the soundtrack for a handheld video game.
And yet here we are, watching a gigantic ensemble that mixes electric guitars, multi-part vocal ensembles and a philharmonic orchestra with pyrotechnics, shred guitarmonies and stage-leaps. And the show is almost entirely dedicated to music from the 3DS role-playing game Bravely Default. I suppose that's what happens when you hire someone like Sound Horizon bandleader Revo to compose the music for your game.
Per the Sound Horizon fansite White Crow, the performance was recorded at Yokohama Arena in November of 2012. In addition to Sound Horizon, the show featured the Tokyo City Philharmonic Orchestra under the direction of Akira Senju. Other standout performances include Takeshi Nishiyama and Yuki's killer duo guitar work, Takashi Asahi on penny whistle and Makoto Hirahara, doing Edea's sax solo proud. And yeah, that's totally Marty Friedman from Megadeth who jumps onstage the battle music medley.
These videos have been online for a while (Bravely Default just came to America this month but has been out in Japan since fall of 2012), but I was first clued in about it when commenter Nixou shared a clip under a short music post I'd done related to the game.