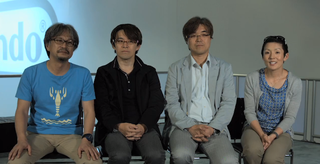 Last week at E3, I got to chat with the fine folks behind the next two Zelda games: the action spinoff Hyrule Warriors and the recently-announced open-world Zelda that will be out next year. Both games are on Wii U.
We talked about what Hyrule Warriors will do, what "Zelda" actually means, and whether a Zelda game will ever star a lady, among many other things. I couldn't resist slipping in a question about Majora's Mask, too. And of course we talked about what next year's Zelda will bring.
The cast, from left to right in the above photo:
Eiji Aonuma, Zelda producer and the guy in charge of the series. Enjoys dancing like a chicken.
Yosuke Hayashi, head of Team Ninja, and a lead on Hyrule Warriors.
Hisashi Koinuma, a producer at Tecmo Koei, also a lead on Hyrule Warriors.
Reiko Ninomiya, a translator who works for Nintendo's Treehouse, who helped us all communicate.
I've already posted a few excerpts from this talk, but some readers have requested the whole transcript, so here's the whole thing, edited for clarity and brevity.
---
Schreier: There was a lot of talk about the main character of the trailer—is it Link, is it not Link, is it a boy, is it a girl? One of the big questions that it got people talking about is: Would we ever be able to play as a female hero in a Zelda game? Is that something you've ever thought about, or something you're considering?
Aonuma: The main character isn't actually Link—it's the player. Of course we have to have a main character in the story, so Link is that main character. But I don't want him to be like a superhero. I want him to represent any player, have that possibility. So that's why I don't really know if we need or want to define it so clearly.
Schreier: But when you look at Link, you see a certain type of person—you see a male character... There was a case I remember where a father coded Legend of Zelda and made it so you could play as a woman because his daughter wanted to feel like she was really represented in the game. Mr. Aonuma, have you ever thought about that, and whether it'd be more inclusive to female players if they could play as someone of their own gender?