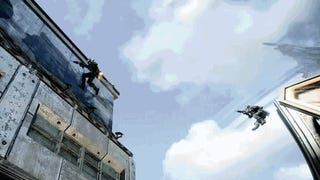 From the marketing to the name of the game itself, Titanfall pitches itself as a game defined by its use of giant combat mechs. And indeed, in your first few hours with the game, that'll be all you really pay attention to.
With good reason! They're visually impressive. The effect when they "fall" is amazing. They're a blast to control, and the way they're rationed is a stroke of genius, granting even the poorest player a temporary spell as a lumbering killing machine.
After a while, though, at least for me, the novelty started to wear off. I realised Titans make you a target, not a killer, and that while their means of availability are fresh, before too long they started to feel not too dissimilar from, say, driving a tank in Battlefield. You're trading power for visibility. Which is why it can be a good idea to never get inside them in the first place.