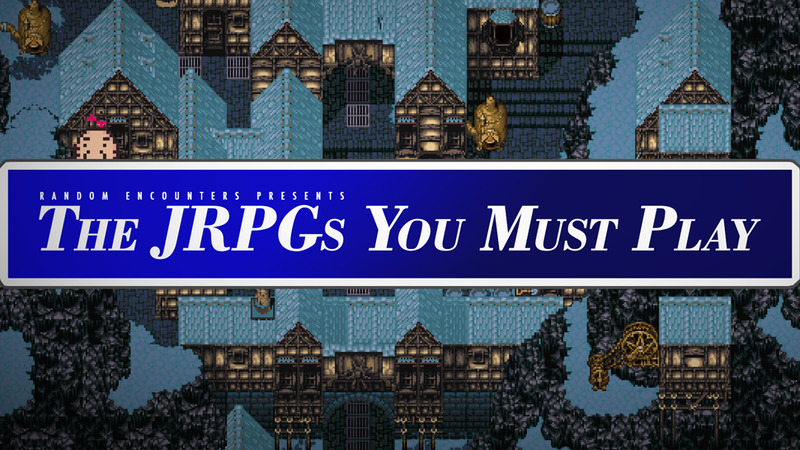 There comes a time when every person must sit back, think about his or her life's accomplishments, and wonder, "What JRPGs should I play?"
Fear not. I'm here to help.
This is a list of Japanese role-playing games that deserve your time. Some are new; some are old; all are excellent. Each of these is worth playing today, even if you have to dig out your dusty old Super Nintendo and try to find cartridges at a yard sale. These are games both timeless and ageless. They're the cream of the crop. They've got the spikiest of the hair. The longest of the swords. The evilest of the demons.
This article was originally published in 2013. We've updated and bumped it up.
You should really play all of these games. Presented in no particular order:
Final Fantasy VI
Platforms: Super Nintendo, PlayStation, Game Boy Advance, iOS, PC
Part steampunk, part Star Wars, and 100% pretty goddamned awesome, FFVI is the best of the Final Fantasys and one of the first RPGs to show people that yes, video games can pack an emotional wallop. The adventures of Terra and Celes and their struggle against the demonic clown Kefka still hold up today, even if their animations are a little limited. Really, the constraints of 16-bit graphics leave a lot to the imagination, which is part of what makes Final Fantasy VI still shine in the modern age. (Play the original version if you can, rather than the ugly PC remake.)
Illusion of Gaia
Platforms: Super Nintendo
Back in the early 90s, a small company named Quintet released a handful of actiony RPGs for Nintendo systems. Many are very good—ActRaiser, Soul Blazer, Terranigma—but the highlight is Illusion of Gaia, a quirky romp in which you play a psychic boy named Will who has to travel across a twisted version of the real world, hacking his way through both fantasy tropes and actual landmarks like the Great Wall of China. Will's journey is satisfying and surprisingly touching, filled with little lines and moments that touch upon mortality and The Meaning Of Life.
Lunar: Eternal Blue Complete
Platforms: Sega Saturn, PlayStation
No game has mastered the concept of traditional JRPG—a turn-based, music-heavy adventure filled with interesting people and places—quite like the Lunar series, created by the talented team at a Japanese studio called Game Arts. Eternal Blue is the best of the bunch, and although the hero, Hiro, can get a little grating, the game is warm and lovely and surprisingly genuine. Killer soundtrack, too.
Ni no Kuni
Platforms: PlayStation 3
If you look up the word "charming" in the dictionary, you will probably not find Ni no Kuni. I don't know why you thought a niche role-playing game would be mentioned in a dictionary. But Ni no Kuni is an excellent game nonetheless—a gorgeous, funny adventure that's essentially an explorable Miyazaki film. (Read my review.)