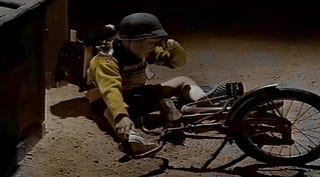 I grew up during the 1980s. And like most kids, I watched a bunch of Arnold Schwarzenegger movies. If only I had lived in Japan. I could've grown up with something even better: His commercials.
But good news! After a long absence, Arnold Schwarzenegger has returned to Japanese advertising, appearing in a Kowa coffee commercial. He's long overdue for a return. (Bruce Willis, another Japanese commercial favorite, also appears in the same series of coffee ads.)
During the 1980s and early 1990s, Schwarzenegger appeared in many cup noodle and energy drink ads. Known as "Schwa-chan," his catchphrase was "daijou-V," a wordplay on "daijoubu" ("okay" in Japanese) and the "V" in energy drink he was selling, Alinamin V.
Lots of foreign celebrities have appeared in Japanese TV commercials. Schwarzenegger, along with Tommy Lee Jones, is one of the best.