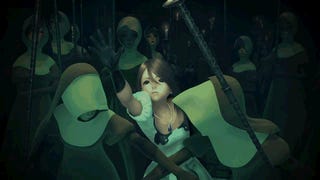 If you've got a hankering for some medieval RPG action, you're in luck—in just a bit over a week, North America will finally get to play Bravely Default, which comes out for the 3DS on February 7.
I've played 16 hours of Square's newest role-playing game, on a review copy provided by Nintendo, who published the game in the west. I'll have a full review up within the next few weeks. For now, here are some thoughts and impressions, in oh-so-fun-to-read listicle form.
1) This is Final Fantasy in all but name.
From crystals to Curagas, all the tropes and traditions are in this one. I actually spoke to the producers of Bravely Default about all the FF references last night—more on that in the future—and they told me the game was originally created as a sequel to 2009's Final Fantasy: 4 Heroes of Light. Early on they decided to turn it into a new franchise, but the Phoenix Downs and job classes stayed. For reference, think FFV meets FFIX.
2) You've played RPGs like this before.
If you like traditional structure, Bravely Default's for you: from the beginning, you'll be going through the same ol' town->dungeon->boss->town->dungeon routine that you've played a thousand times before. There's nothing wrong with this structure, of course, especially when it's presented in a package as lovely as this one. Side-quests help break up the monotony, and every dungeon has its own gimmick (damaging terrain, for example). And...
3) It's full of little innovations to make the game more enjoyable.
There's a random encounter slider. There's a speed-up button in combat. There's an auto-battle mode that makes your characters repeat the last actions they performed. You can skip cut-scenes. You can play the game with Japanese voices and/or text. You can even make it so your characters gain no experience in battles just to see if you can beat the whole game at level 1.