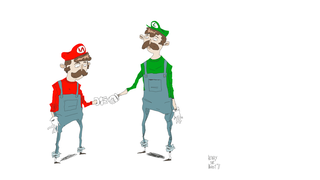 Way before dumb-ass pundits called it a "terrorist fist jab", the act of greeting a homie by touching clenched hands was called dap. (We'll also accept 'giving a pound' as appropriate terminology.)
The Warriors is one of my all-time favorite games - I have a PS2 mostly to keep it, and Red Dead Revolver, fully playable whenever the nostalgia hits me. Though "The Warriors" had no cinematic sequel, Rockstar was plotting a followup anyway, one set in 1960s Britain at the height of the Mods-vs.-Rockers brawls.
The Lizzies were a revelation in women's lib as far as gang warfare is concerned, but you'd never know it from watching this trailer about them in the upcoming The Warriors: Street Brawl game.
Xbox Live Arcade will be turf for an upcoming retro gang war as The Warriors get a second video game beat 'em up, thanks to Paramount Digital Entertainment.