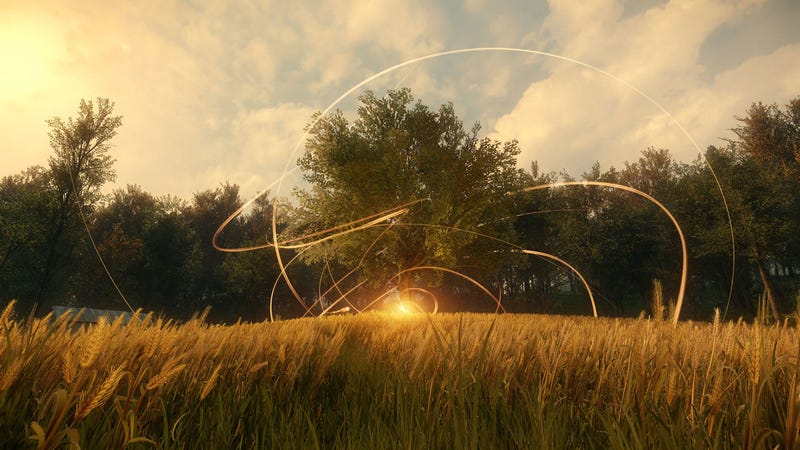 Composer Jessica Curry, who most recently worked on Everybody's Gone to the Rapture, has announced she's (sort of) leaving The Chinese Room. There's more on her mind, though. In a blog post, Curry pulled no punches when talking about her negative experiences working with Sony, how the industry devalues the…
"We probably should have announced the run button before launch..." So say the developers of the new (and pretty good!) story-and-exploration game Everybody's Gone to The Rapture. A last-minute change to the game's controls left the run option unintentionally hidden from gamers. Just hold R2 for a bit!
The insult of "walking simulator," lobbed at video games whose strongest elements are exploration, discovery, and story, misses its intended target. It conjures something more like Bennett Foddy's QWOP. Then again, we all know what the term means by now: something like Gone Home that removes the elements of puzzling…
Everybody's Gone to the Rapture, the fascinating PS4 adventure game announced back in 2012, will be out this summer, Sony says. New trailer above. This one looks pretty neat—it's developed by The Chinese Room, the game studio behind Dear Esther.
Amnesia: A Machine For Pigs Could've Been Much Harder. In a lengthy and fascinating post-mortem, designer Peter Howell goes over the game's design process, noting many areas where developers The Chinese Room differed from series creators Frictional Games. It's a great read, check it out.
Chairs in Amnesia: A Machine for Pigs aren't essential parts of the game. They're actually pretty much useless—you can't even sit on them. But they are fun to mess around with. You can even get creative with them, and if you're really patient, you can pull off masterpieces like this one, carefully engineered by Steam…
In an interview published in the 2012 book Gamers at Work: Stories Behind the Games People Play, gaming luminary Warren Spector mentioned something of a bombshell that seems to have gone unnoticed, saying that he "did some work for Valve on Half-Life stuff" in the early, pre-Disney days of Junction Point Studios.
Indie sensation Dear Esther won lots of praise for its distinctive feel and moody narrative when it came out earlier this year. Even though it's short, The Chinese Room's experimental title is the kind of experience you take your time with so that the mournful vibe and lushly drawn virtual world can seep into your…
This February is proving to be a fascinating month for non-traditional development and funding paths in game design. While Double Fine's Kickstarter proposal has been in the news, indie title Dear Esther has been making small waves of its own.