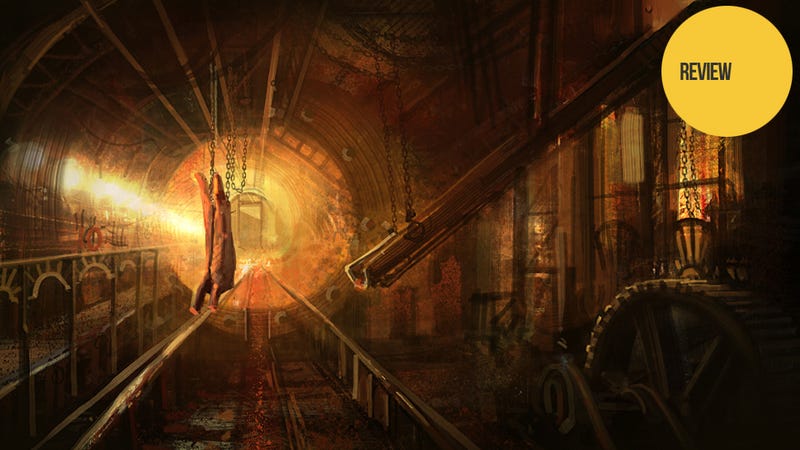 Some games are defined by a single place; others by a single character. Still other games are defined by action, by something you can do in the game itself. In its early goings, the horror game Amnesia: A Machine for Pigs is defined by a single word: Nope.
Near to the start of the game, I found myself standing underneath a ladder leading up to an attic. It looked like this:
I did not want to climb that ladder. Every fiber of my being was telling me not to. And yet, if I wanted to finish the game (as I was obligated to do as a reviewer), I'd have to move forward. But still, I sat there.
I stared at the ladder, at the darkness in the attic. It stared back.
Eventually I climbed the ladder and braved the attic, but that long moment of indecision stuck with me. A Machine for Pigs is defined by what I've come to think of as "Nope Moments." You'll come upon a half-open door, or a long dark corridor, and your survival instinct will be screaming a single four-letter word.
The game is filled with such moments:
When Tina asked if I wanted to review the game, I had a real-world Nope Moment. I thought back to my time playing and reviewing the first game in the series, Amnesia: The Dark Descent.
"Sure," I said, for some unknown reason, all but certain my review card would wind up looking like this:
Fortunately, I managed to get past each and every Nope Moment I encountered, finished (and quite enjoyed) the game, and am able to write an actual review for you now.
---
A Machine for Pigs' 2010 predecessor Amnesia: The Dark Descent came a bit out of left field—it was, more or less, a straightforward puzzle/adventure game with a smattering of extreme horror and stealthy monster-avoidance thrown in. Players had no weapons, no means with which to fight back against the game's smattering of Lovecraftian beasties, and so their appearance would prompt an at-times profound degree of shock and panic. Amnesia quickly became a cult favorite and, as people began to record their terrified reactions to it, a bona-fide Youtube hit.