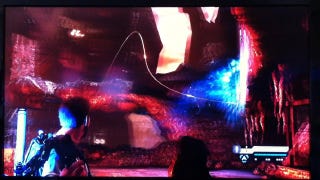 Yes, yes, Namco's February 2012 game Inversion will let you raise and lower the gravity of enemies and objects, letting you toss them and crush them. Plus the game includes zero-gravity combat and neat sequences that have enemies (or you!) running around on the walls and ceilings, as if up was down or right was…
Cover based third-person shooter Inversion looks and feels very much like other cover based third-person shooters—Gears of War, for example—with the exception of one major thing: gravity. That and a rare innovation with one other video game staple, the exploding barrel.
Remember Inversion? If not, it's the gravity flipping shooter that Namco Bandai first announced way back in 2009. We last saw the PlayStation 3 and Xbox 360 game in action at last year's Gamescom. Now we have a new look at Saber Interactive's third-person shooter... sort of.
Released last week to poor reviews (with a few exceptions), alien invasion flick Battle: Los Angeles runs 116 minutes long. The video game tie-in lasts less than half of that.
The rumored HD Xbox 360 remake of the original Halo: Combat Evolved will be released on November 15, 10 years after the Xbox classic debuted, Joystiq reports. Series creator Bungie wouldn't be involved. Microsoft hasn't confirmed, though we've asked.
A cop and his neighbor scour the gravity-twisted, alien-infested streets of their city in search of a missing boy in Inversion, a 3rd person shooter for the Xbox 360 and PlayStation 3 from Namco Bandai,