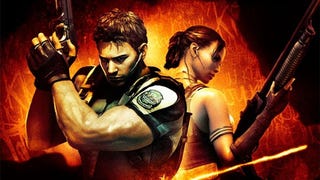 Today, two articles tackle the tough issue of race in the upcoming Resident Evil 5. (Commenters beware - the ban hammer is poised at the ready.)
Capcom's Masachika Kawata has admitted that Resident Evil 5 is heavily influenced by western-style gaming, placing particular emphasis on Bioshock.
"It's a classic game which really utilized the next gen power very well. The world is very strong and very believable, and the whole game was quite inspiring"
Speaking to…

Another great trailer for you guys! This of course comes courtesy of Capcom in honor of Tokyo Game Show and it's quite epic. It gives us a little insight on how the plot is going to develop in Resident Evil 5 around Chris Redfield. But that's not all, there are plenty of other shotgun toting favorites, old and new,…
And another episode of Japanese-Devs-Being-Down-On-Themselves, Resident Evil 5 composer Kota Suzuki think American game music has surpassed Japanese game music — especially regarding post-production elements like recording and mixing: Stuff like this doesn't just make Japanese development, it makes game development…
A new salvo's been levied at the now-infamous Resident Evil 5 trailer by Tolu Olarunda at the Your Black Writers blog, who was upset by the trailer's imagery.