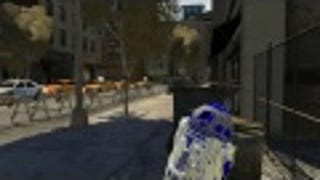 This clever Grand Theft Auto mod is pretty funny for the first 1:45 then HOLY SHIT does this little droid turn into an engine of destruction. And if you think that is hilarious, my God, turn off the annotations and wait until 3:43 for one hellacious surprise. Just cover your keyboard, or don't be drinking anything.
R2-D2, the helmet. Created by Philadelphia-based artist and illustrator Jenn, this a do-it-yourself original. The force is strong with this one.
My son has one of those cool remote control R2D2 robots, the one with a little cup holder that is absolutely perfect for holding an ice cold can of beer.... and it sits under a thick layer of dust in the corner of his room, housing his one very cool hat. McWhertor would be proud. Me? I'm just bitter.