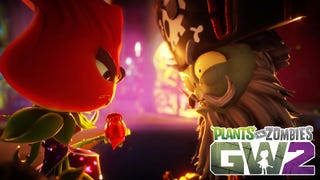 EA's throwing a Plants vs. Zombies: Garden Warfare 2 multiplayer beta event starting next Thursday, on January 14. The beta, which ends on January 18, will be freely available on PS4 and Xbox One. Check out the GW2 beta page for more info, and eventual download links, if your interest's piqued.

Plants Vs. Zombies Garden Warfare is coming to PC June 24. The PC version of Popcap's online multiplayer shooter will feature all of the free updates already released for the Xbox 360 and Xbox One versions. There's a deluxe edition up for preorder on Origin containing extra in-game coins and bonus sticker packs.
You can spend five dollars in Plants Vs. Zombies 2: It's About Time to advance from Ancient Egypt to the Pirate Seas. You can unlock enhancements with cash, or use your real money to purchase in-game currency, stocking up on power-ups and using them to blow through every level. Or just keep your money and enjoy an…
Kicking off a two week exclusive launch at Amazon.com, Android owners can score Popcap's award-winning flower defense game Plants Vs. Zombies for free today only. Grab it before the price rises to $2.99 at midnight!