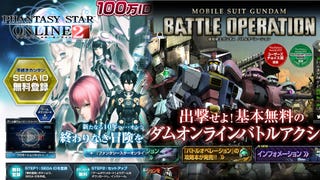 Free to play. Free. To. Play. Sounds good, but watch the fine print. With most games these days, when something is free, you tend to get what you pay for. Generally, you'll end up getting a fraction of the actual game with the rest being either unattainable or incredibly hard to get to without pulling out your credit…
The beta forPhantasy Star Online 2 has ended, and the official service will finally start on July 4. Although the game is free-to-play with no required fees, there are in-game premiums that players can choose to buy. The in-game premiums can be purchased by Arcs Cash, which can be charged through PSO's official…
On March 26th, SEGA has officially announced that the online role-playing game Phantasy Star Online 2 will be released not only on the PC, but on the PS Vita and smartphones as well. The game is planned to be released early summer of 2012, and will be free to play with certain purchasable in-game items.
Sega's online action role-playing game Phantasy Star Online 2
is, currently, only confirmed for Japan and only for Windows PCs. And although we may have been burned by past Phantasy Star games, the next PSO has me extremely hopeful.
We're not sure why toy maker Kotobukiya is releasing a figure based on Phantasy Star Online now, but we're not complaining. Who doesn't love PSO and would want a little robot maiden to remember all the good times?
Back in September we learned that Col. Harland Sanders would be appearing in Phantasy Star Portable 2 Infinity, celebrating the 40th anniversary of Kentucky Fried Chicken in Japan. We now have five screengrabs of his secret recipe in action.
Say what? Play Phantasy Star Universe with a Git-tar controller? Wow. I might need the Geek Squad to come over and install that. Thanks to reader sunpop7 for this pic of Best Buy's mis-cased game.