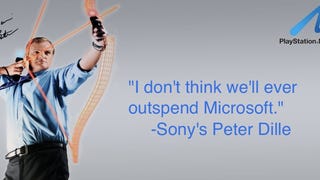 Sony exec Peter Dille responds to a question regarding whether or not the company plans to spend more promoting the Move than Microsoft is spending on Kinect. Via the Seattle Times and CVG.
Early in the PlayStation 3's life on store shelves, Sony decided the best way to market the $499-and-up machine was through crying baby dolls and sterile white rooms, ads that shockingly came off as "arrogant." Thank goodness we're past that.
The long-rumored, recently leaked existence of PlayStation 2 games joining the "PS One Classics" line comes a bit closer to reality, at least in the mind of PlayStation senior VP Peter Dille who calls the digital re-issues a "terrific opportunity."
The cliffhanger at the end of yesterday's Chain Interview had Xbox exec John Schappert wanting to know what a Sony exec thinks of Xbox Live. Let's get past the halfway point with an answer.
When last we left off, Nintendo's Shigeru Miyamoto was asking me to ask Metroid designer Yoshio Sakamoto when he wants Miyamoto to retire…
Say what you will about his outbursts, Sony's Peter Dille is a man who wears his heart on his sleeve. Dude bleeds Sony. And as is often the case with passionate, outspoken types, as often as they're wrong about something, they're right about something else. Yesterday, Dille was so wrong about Final Fantasy XIII, but…
First week sales figures provided by Microsoft, courtesy of unnamed retailers, put sales of Grand Theft Auto IV at 60% for the Xbox 360 version, 40% for the PlayStation 3 version. A win, undoubtedly, for Microsoft. N'Gai Croal of Level Up got his hands on some GameStop-only sales data, which puts the percentage more…