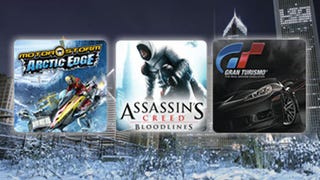 Showered with free titles since launch, European PSPgo owners can now take their pick of free MotorStorm, Gran Turismo, or Assassin's Creed, while North American buyers still get a rock.
The Playstation Portable got a fun, new little brother this year in the form of the slide-n-go, download-only PSPgo.
MotorStorm: Arctic Edge is the third iteration in the Playstation's over-the-top Burning Man-meets-World Rally Championship driving series since it was unveiled among a slew of Playstation 3 launch titles in 2005.
MotorStorm: Arctic Edge will release in UMD format on Sept. 29 - delaying the downloadable version of the game until Oct. 1, just in time for the PSPgo's debut.
Sony's MotorStorm series is making the move to the PSP (and PlayStation 2) later this year, trading in sun, sea, and sand for snow, with MotorStorm: Arctic Edge, Bigbig Studios frenzied frosty sequel.

Any thoughts that Sony might not be taking the PlayStation Portable seriously enough should go crashing down the snowy mountainside with the release of the first trailer and screens for MotorStorm: Arctic Edge.