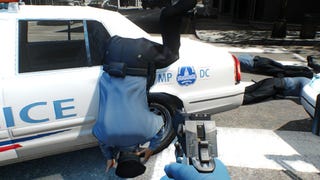 Twerking is contagious, seriously. The last place I expected see it was in Payday 2. The cops might know something... Perhaps acting like Miley Cyrus is the best way to stop criminals in their tracks.
Forget Miley Cyrus—before the pop star's inane VMA performance made national headlines and got "twerking" added to the dictionary, Mother 3's Wess was shaking it like the best of them. The aging ninja had to do the twerk-filled Osohe Dance in order to open two doors in the Osohe Castle in Nintendo's GBA role-playing…
The
last time
we saw Miley Cyrus, she was smashing a guitar. Now, she's back! And this time, not smashing, but . At the MTV Video Music Awards, she was shilling the MTV Games published with her rendition of 'Livin' on a Prayer'. So, if you've got a music game that needs promoting, call her agent! Kid's gotta eat.