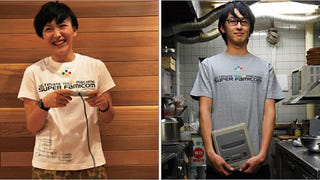 Japanese shirtsmiths King of Games are celebrating their 8th birthday. Happy birthday! To celebrate, they present you with this cheery Super Nintendo t-shirt.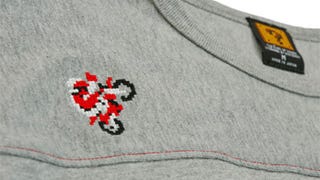 Long-time Kotaku Tower darlings King of Games are hitting 2010 running, announcing a new line of shirts based on classic NES title Excitebike, along with sneak peeks at an upcoming Zelda range.
Japan's King of Games - our second favourite outfitter of gaming shirts - will this week be adding some more good stuff to their line of Irem clothing. And where there's Irem, there's R-Type, and there's Spelunker.
Japanese game clothing specialists King of Games have been in a bit of a funk lately. Some bland, boring designs. But not this one! This one's the opposite of both bland and boring. You can thank Tingle for that.
What better way to show your love for the world's finest pack-in game than with these Super Hang-On shirts, the latest in King of Games' "Get Ready" line of Sega tees. It comes in a fetching shade of black, like you can see above, but also in white, should you be the type to make it all the way through a ribs night…