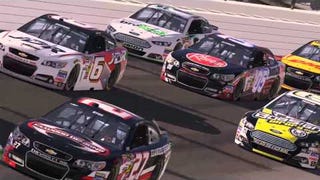 Ray Alfalla led Tyler Hudson by two points going into the season ending race at Homestead Miami. In a season without a chase-style playoff system, two competitors can't be much more evenly matched. But when the race was over, the drivers got bubbly from their kitchen instead of victory lane, because neither of them…

When it comes to sim gamers, nothing is too expensive or too out of the ordinary. They will pay any price to have an experience that is as close to the real thing as possible. Meet the VRX iMotion. Nvidia was showing this bad boy off at their booth at CES this year, so I just had to give it a whirl.

iRacing is an extremely realistic racing simulator. Its top driver won $10,000, despite never driving over 100 mph in real life. Top Gear put him in an open-wheel racer to see if digital skills translate to real racing prowess.
iRacing.com want to make it very clear - they don't make games. They have been working on their PC racing game simulation for four years and they take it very seriously. So seriously that, now it is out of beta testing and it is ready to be experienced they want to make sure nobody gets the wrong impression and…