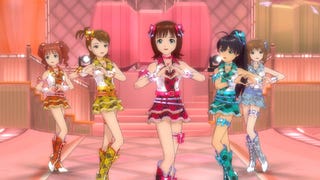 Coming off of their recent movie release, THE IDOLM@STER girls are back with a new game that looks like it's learned from past mistakes.
It's looking to be a big summer for game industry parody series Neptunia—despite the worrisome event from a few weeks back. Not only is it getting its own anime and a remake of the original game on the Vita, but it also recently got a new spin-off game: God Dimension Idol Neptunia PP.
Since 2005, Namco Bandai's rhythm-tastic Idolmaster (Idolm@ster) series has been charming Japanese fans (and import gamers) at home and in arcades with its adorable anime style and J-pop music. Today, for the first time ever, there's Idolmaster available on the iPhone and iPad for the U.S., France, South Korea and…
In Japan, one company has embraced the DLC business model more than any other: Bandai-Namco. To anyone who has ever thought a piece of DLC was a bit pricey would be screaming in rage if the Japanese prices for Bandai-Namco DLC were to become the norm. Click through the gallery to see some of the most egregious…
In Bandai-Namco's Idolm@ster series, you take on the role of a music producer and create and manage a group of teenage popstars. By mixing Japan's idol and video game cultures, it is no surprise that this series has a fanatic following among Japanese otaku (geeks). But is this following deserved, or is The Idolm@ster…
Among hardcore Japanese otaku (geeks) there are few games more popular than those of The Idolm@ster series. The premise is simple. As a music producer, it is your job to take a group of recently debuted teenage "idols" and turn them into Japan's most popular popstars.