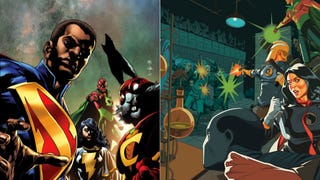 Earlier this year, Marvel Comics debuted new variants of their Captain America and Thor characters. The new Captain America is a black man and the new Thor is a warrior woman. Those changes made a lot of fans upset. But comics legend Grant Morrison is featuring a black Superman and loads of racially diversified,…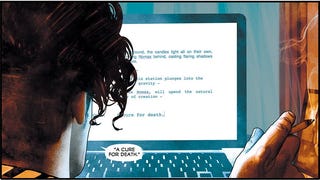 Grant Morrison writes weird comics. Comics filled with streets that talk, a Joker that squeezes Batman's ass and a Superman who saves the universe by singing to it. Some of those lovingly bizarre ideas get pulled from his own life and experiences. But the head-trip material from his newest stuff comes from this…
Tomorrow, you will be able to walk into a comics shop (yes, they still exist, despite me downloading most of comics to an iPad), and you will be able to buy three graphic novels. One is by Grant Morrison. One is by Eddie Campbell. One is by Alan Moore.
Morrison and Moore are merely two of the most acclaimed comics…
Comics God Grant Morrison's latest work is Batman, Inc, a future-corporate re-imagining of Gotham's Dark Knight. One of his key inspirations for the series? Last year's Batman: Arkham Asylum video game.
Comic book mastermind Grant Morrison, says his new comic, Batman Inc, is "an attempt to do a comic influenced by the storytelling structures, images, senses of scale, movement and perspective and so on that I've absorbed from games." Morrison knows what he's doing and elaborates splendidly at IGN. [SDCC 10: The…
Hiring proper comic-book genius Grant Morrison to perform script magick on the Area 51 movie does seem like a natural fit - the Midway title's mix of aliens, conspiracies, the illuminati and genetic mutation are straight up his strasse. The only missing ingredients are drugs and the occult - can he find a way to…