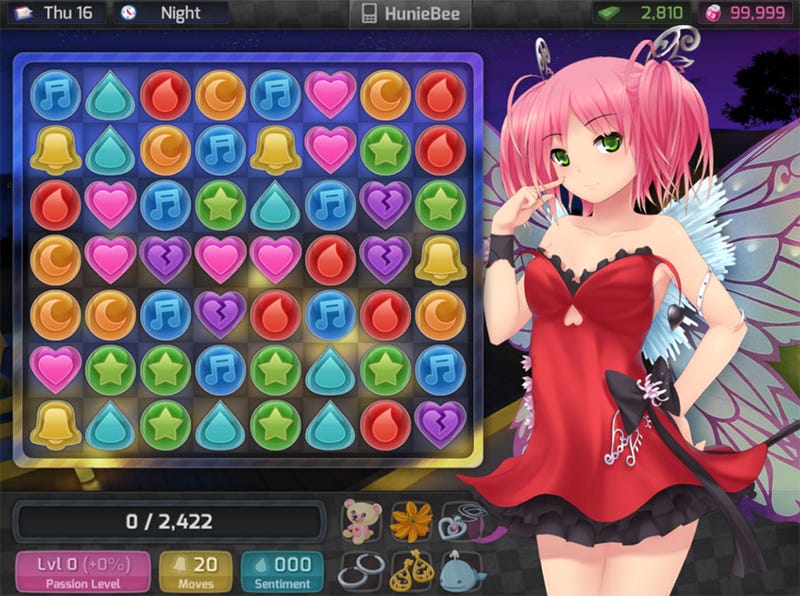 Successfully Kickstarted back in November 2013, HuniePop is one part puzzle role-playing game, one part dating sim with a dash of hentai on the side. Is it strange that the element I'm most excited by is the puzzles?
Last week, I chronicled my adventures in winning the heart of a virtual girl in the Japanese dating sim New Love Plus+. Now, I invite you all to join me as I take her on our first date—and once again prove I am not quite the Don Juan of dating sims.
I'm not going to lie, even after talking about the virtues of the genre, I am still embarrassed to admit I occasionally play dating sims—and I shouldn't be.
Last week I asked your help in deciding which of the three possible romantic foils in Japanese dating sim New Love Plus+ I should try dating. The winner by a landside was fighting gamer Rinko Kobayakawa. But before I could get to the dating part of the game, I had to first successfully woo her. …It was a rocky road.
When I announced my intention to date a virtual girl in the newest iteration of Love Plus by asking all of you to help me choose which romantic foil to go after, I noted that it would not be my first dating sim. Moreover, I mentioned that dating sims are the best tool I know of for expanding your Japanese ability.
Dear readers, I am about to embark on an experience unlike any other in my 30 years of life: I'm going to date a virtual girl in New Love Plus+, the newest game in the (in)famous Japanese dating-sim series. But even before I start, I find myself at an impasse. Which of the game's romantic foils should I date?
Save the Date is one of the more clever games I've played in recent memory. It's a visual novel with a simple premise: go out to dinner with someone. Well, it should be simple, except every time you try it, the dinners turn into scenarios that would be right at home in the Final Destination movies.
Japanese games are well known for targeting a straight male audience with their overly sexualized (i.e., incredibly busty and scantily clad or moé) female characters. In some games, this fan service is the entire game's focus.
Someone just made a faux dating sim—in line with a game like Katawa Shoujo—using Korea's top StarCraft II players. Thank god the StarCraft esports scene is full of great personalities and players, because a funny dating sim like this would actually work.
There is a dating sim called Jurrassic Heart where you go on a date with a T-Rex. He plays the ukelele, but he's shy about it because he once dropped it and couldn't pick it back up again. Because he's a friggin' tyrannosaurus rex with tiny arms. Unfortunately it's only about one scene long. (via The Daily Dot)
Last week at the Final Fantasy 25th Anniversary event here in Tokyo, some of the biggest names in Square Enix talked about the franchise. Square Enix showed off the first material related to Lightning Returns: Final Fantasy XIII and Final Fantasy XIV: A Realm Reborn was put through its paces. Then Hajime…
At Final Fantasy's 25th Anniversary event yesterday in Japan, Square Enix thought it'd pull a fast one on the audience, putting Final Fantasy Type-0 director Hajime Tabata up to revealing the concept for something called "Tokimeki Final Fantasy: Suzaku Magic Institution Peristylium: Oh no! I'm in Love With the…