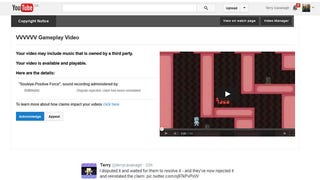 Back in December the YouTube ContentID fiasco was punctuated by a copyright claim against indie developer Terry Cavanagh on a trailer for his game VVVVVV. Cavanagh disputed the claim. Here's YouTube's resolution.
We've discussed YouTube's Content ID issues at length here on Kotaku but no one puts it in any catchier way than YouTuber and rapper Dan Bull.
YouTube doesn't just have an army of bots trying imperfectly to sniff out copyright violations on videos on the site. It also has a song-removal feature that lets a video-creator cut a problematic song without losing control of their video or ruining it. At least, that's how it should work. We tested it.
YouTube is responding to gamers and YouTubers who are upset about the Internet video giant's extraordinarily aggressive new copyright sweeps. We've got a a copy of the e-mail they're sending out below.
Some people on the Internet haven't been too sympathetic to the YouTubers whose livelihoods have been affected by YouTube's recent Content ID sweeps. Boohoo, they say. Get a real job.
Numerous video game-related YouTube personalities have spent the last day digging through piles of copyright claims suddenly filling their inboxes, claims that they say are messing with their ability to produce and profit from videos they post online.