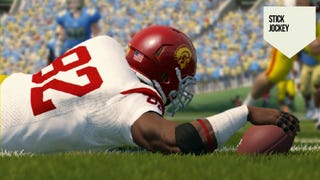 The next edition of EA Sports' embattled college football series will lose only one school from a lineup of more than 120 next year, though two conferences will stop licensing their trademarks to the game, according to a source with direct knowledge of the matter. The Southeastern Conference, which yesterday told ESPN…
The athletics director at the University of Washington—members of the Pac-12 conference and the 1991 National Champions—said his office will advise the university's administration not to license the school's appearance in future video games such as EA Sports' college football series.
The Pac-12, the Big Ten and the Southeastern Conference—cornerstones of major college football—will no longer license their league's symbols or trademarks to EA Sports. While the 40 members they represent may still appear in future video games, the departure of these leagues is a painful blow to the series.
In NCAA Football 12 players have an extraordinary amount of control over the college football landscape. Last year, many diehards and purists pursed their lips and grumbled over a wave of conference realignments that forsake traditions and regional sensibilities for television contracts. NCAA 12 is their chance to put…
We know there's a certain level of stagecraft and gimmickry to these sports video games picking winners. That said, EA Sports has correctly predicted the Super Bowl, Stanley Cup, and World Cup champion this year.