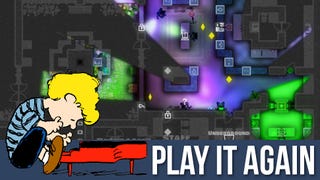 Of all the terms one could use to describe a video game soundtrack—exhilarating, emotional, sad, uplifting, lonesome, boisterous—the word "sloppy" almost never comes up. Seriously, pause for a minute and name a video game with a sloppy soundtrack. Unless you're talking about a poorly-played Rock Band track or a bar…
Sure, it's cool when a talented musician makes an album paying tribute to video game music. But what about when a whole bunch of composers assemble, locking their various musical tics and tricks in place for a single grand collection? That's more or less what's happened with World 1-2, a video game tribute album…
I always felt as though my Journey character would've been pretty good at the violin. And what do you know, that seems to be the case, as demonstrated by violinist Taylor Davis in this new video tribute.
As unique as they are, the most striking thing about games like Flower and Journey may be their art styles. Now Matt Nava, the art director on both titles, has departed thatgamecompany to form his own development house, Giant Squid Studios, with the Los Angeles-based film and TV studio Ink Factory.
Even in a banner year for great game music, Austin Wintory's living, breathing score for Journey stands apart. I've been looking forward to seeing what he's been up to—as it turns out, he's been working on the soundtrack to Horn, an upcoming game by Phosphor Games (that, yes, will be published by Zynga.)
Argh! Cut it out, Journey soundtrack! I'm trying to look cool here, and you keep giving me goosebumps and making me stare wistfully into the middle distance!