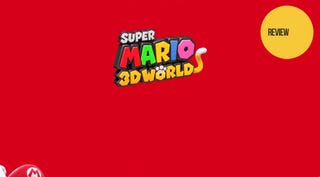 Super Mario 3D World is a terrific video game. It's just not a very good Wii U game.
I can't remember the last time Nintendo needed a game to be so good so badly. Super Mario 3D World is the first really big game for the company's beleaguered Wii U, the kind of game that the company hopes will turn curious bystanders into buyers. Or at least get current owners buying a Wii U game in a holiday season set to be dominated by the launches of the PS4 and Xbox One.
Which might explain why this game, the first real BIG release for the console since its launch, is so full. With SM3DW, Nintendo has opted out of making a "new" Mario game. Instead, we're getting all the Mario games. All at once.
Things start out pedestrian enough as you're led through the opening few worlds, but as you progress and encounter more varied level types, more power-ups and more enemies, you realise that SM3DW isn't an exploration of what new experiences the Wii U can provide you with. It's a greatest hits collection, bringing together all the best things Mario has already done in a single package.
It's got Super Mario World's overworld map. There's a lot of Mario 64 and Mario Galaxy level design in here. One new power-up gives you the Mario & Luigi RPG's multi-character controls. So many stages contain so many homages, so many tributes, so many borrowed ideas from lots of different Mario games, all brought together here.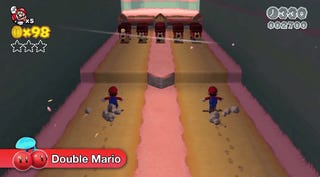 I could spend pages telling you how good much of this is, despite the retreads, but you've done it all already. Many times before. The perfectly-designed jumping challenges. The deviously-placed enemies. The charming puzzles, the gentle difficulty ramp, the way it manages to teach you everything you need to know without a single tutorial.
Just imagine loads of the best parts of your favourite Mario games rolled into one and you'll get an idea of how you'll feel during most of your time with this new game. It's old stuff, yeah, but it's the best old stuff.
On the occasions SM3DW ventures into new territory, however, it excels. There are levels of a scale this series hasn't seen before. The presence of not just stars (used for unlocking boss stages) but rubber stamps for Miiverse interaction, and their tantalising placement within levels, turns every single stage into a platform for obsessive replays and changes of strategy.
In a good way. Like other recent Mario games, SM3DW's stages aren't designed to be beaten once and forgotten. They're tiny arenas, which you'll want to keep coming back to, explore and unlock. You'll never "finish" SM3DW. You'll just one day grow tired of poking your nose into all of its many and unexpected corners.
There is also a cat suit. I cannot stress enough how important this is. Forget tanookis. In this game, you can put on a cat suit, and you suddenly walk around on all fours like a cat, and you can crawl on walls, and you can scratch things in the face, and you "meow", and it is just the best.
It's also a gorgeous game. Beautiful. While it's disappointing to some that Nintendo is once again back to being almost a generation behind the competition in terms of visuals, one look at SM3DW running in HD will have you wondering how the Mushroom Kingdom, at least with its current art design, could possibly look any better.
I used to hold Far Cry 3 up as the gold standard for nailing the "sunny day on the beach" feel, but no more.
Make no mistake, SM3DW is a good game. A very good game. And yet, carrying the Super Mario name, and appearing as the first big Wii U game on the console, and sharing the same 3D branding as the fantastic 3DS game, it's hard not to feel just a little deflated by the experience.