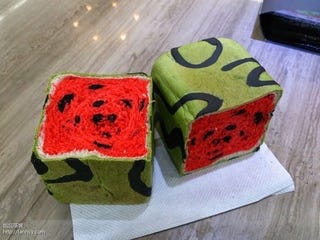 If bread that looks like, uh, bread isn't enough for you, how about bread that looks like watermelon?
Throughout Asia, melons are very much a summer food. And in Taiwan, you can eat "Watermelon Toast." According to Pouch, this colorful bread got its start at a Taiwanese establishment called Jimmy's Bakery.
[Photo: vc]
Note how the packaging says "すいか" (suika), which is Japanese for watermelon.