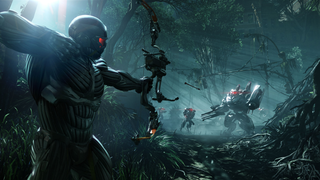 Crytek, the developer behind Crysis and Xbox One launch game Ryse, is having trouble paying employees, and the company has been bleeding staff since March, according to people who work there.
In addition, from what I hear, the multi-national studio has had to cancel work on multiple games over the past few months, including some original prototypes and a sequel to last fall's Xbox One exclusive, Ryse.
Current and former Crytek employees describe a tense, unstable environment, plagued by poor communication and a number of high-level staff departures at the company's biggest studios in Germany and Britain. In extensive conversations over the past few weeks, developers have described a company in turmoil, where staff openly talk about leaving or looking for new jobs. One employee estimates that some 100 people have left over the past three months.
News of Crytek's woes first entered the public eye over the weekend, as rumors started to swirl that the company is in trouble. Crytek representatives have publicly denied all allegations that the company is facing financial difficulties, but evidence is mounting that something is wrong at the 800-person company, not just through Glassdoor reviews and anonymous comments on Kotaku, but through our own sources, who paint a morbid picture.
Over the past few weeks, I've been in touch with ten current and former employees at the independent game developer. I've also spoken to a handful of people who have talked to current Crytek employees. All of these sources, speaking anonymously in order to protect their careers, describe a company that has been frequently missing payments and regularly assuring employees that everything will be fixed in the future, only to continue sending out checks late.
In conversations, employees expressed a great deal of frustration with the lack of communication within Crytek's studios. One odd company mandate, according to four current employees, was that nobody could talk about salary issues via e-mail, presumably to prevent anyone from leaking that there have been problems. Almost all conversations about payment issues at Crytek's studios are handled in person, which is one reason it's taken so long for me to report this story, after first hearing rumblings way back in March.
Still, many of Crytek's staff are unhappy. They've spoken out in hopes that publicizing the issues will push for some change.
"Trying to confine the problem rather than tackling it is not the way to go about this anymore; it's too big now," said one current Crytek employee. "Honest communication, inclusion, and a work environment based on trust could have gone a long way, and may have stopped people from leaving."
Crytek, which is currently developing the shooter Homefront: The Revolution and the MOBA Arena of Fate, consists of several studios across the world, including a main office in Frankfurt, Germany and satellite studios in other cities like Austin, Texas and Nottingham, UK. I mostly spoke to people in Crytek's Frankfurt and UK offices, but employees have assured me that these payment issues are affecting the entire company.
In March of this year, according to four people who have worked at Crytek Frankfurt, paychecks came two weeks late. Though missed paychecks were not an anomaly for Crytek—the company has been late on payments a few times over the past few years, two sources say—this was particularly unusual because of the circumstances surrounding it.
A few months earlier, Crytek had cancelled an original game that was set to enter pre-production. Then, in February, word came down that Crytek would no longer be working with Microsoft to make Ryse 2, according to three employees. Crytek's work on the game was cancelled—because of a conflict over who would own rights to the franchise, those employees say—and Microsoft would no longer be sending them checks.
(When asked about this, Ryse publisher Microsoft sent me a statement saying they have "nothing to announce about the future of the franchise at this time." I don't know whether or not Microsoft can or will make a Ryse sequel with another developer.)