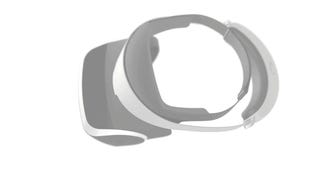 A couple of days ago, I felt like I was standing in a shark tank. Some time before that, Sony's head of PlayStation game development, Shuhei Yoshida, fed a dinosaur and the company's top PlayStation researcher, Richard Marks, stood next to the Mars rover—all in virtual reality, of course. With any luck, you will eventually be able to as well.
We're getting awfully close to a moment when virtual reality is going to be relatively easy for all gamers to experience. That moment is coming thanks, first, to the pioneering Oculus Rift and also to the Project Morpheus, the VR headset from Sony that debuted this week at Game Developers Conference in San Francisco.
Oculus has been selling increasingly good versions of the Rift, with a commercial release on the horizon. And now Sony wants to make VR the latest gaming peripheral to stack up with the likes of the Wii Fit balance board or the Microsoft Kinect. In fact, Yoshida told me earlier this week that he believes that VR has "bigger potential" than either of those multi-million-selling peripherals.
I've tried Sony's new VR and had a good conversation with Yoshida and Marks about it. More of that in a bit, but I write about VR with the understanding that it's one of those things, like the 3D effect on Nintendo's 3DS, that you need to see yourself to really appreciate.
To help you out some, here are the basics of what it's like: in all of these VR experiences, you put on a headset that blocks out any view of the outside world, immersing your field of view with three-dimensional graphics that stretch out as far as a computer can draw them. Your eyes only see a virtual world. If you have headphones on, you only hear that world, too. Instead of seeing a game world in front of you on a TV, you feel like you're inside of it. That's what it looks like. If you tilt your head and look up, you see the virtual sky or a virtual ceiling, perhaps. If you look down, you might see your virtual body and the ground. Wherever you turn your head, that's what you see. It's as if you've been transported to another place. It's how I was able to stand in Sony's booth at GDC but, with the Morpheus on, feel like I was standing inside a shark tank.
Here's our own Kirk Hamilton in the virtual shark tank.
If just one company was pushing VR—or if the experiences that people like me have experienced were bad—then you could dismiss all this as hype. You could write it off as another of those little-requested tech innovations that seem to be foisted on consumers in the interest of finding something new for people to buy. Remember 3D TVs?
VR, I'm happy to report, is impressive. It's cool and worth wanting.