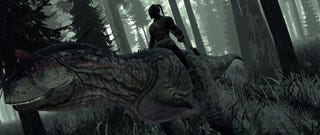 Last year dinosaur survival game The Stomping Land made $114,060 on Kickstarter, and a few months ago it hit Steam Early Access. The developer claimed there'd be weekly updates, new features, and well, anything to round out a barebones experience. Then they disappeared. Until now.
In multiple places developer SuperCrit, headed up by Alex "Jig" Fundora, promised frequent updates once the project picked up Steam on Early Access. On the game's Steam page, the first note reads: "It has had a year of progress and will continue to undergo production with frequent updates until the end of 2015." Meanwhile on Twitter SuperCrit specifically mentioned weekly updates as a key part of the plan.
And yet, there's been nary a meaningful peep since June. Buyers and backers are, understandably, rather upset.
More than a thousand have even signed a Change.org petition for refunds.