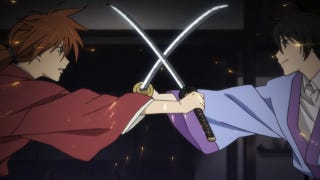 In the Rurouni Kenshin manga and anime, there's a reverse-blade sword called sakabato. An old, real-life version of this fictional sword was apparently discovered in Japan.
Last October, what's being compared to a real sakabato turned up in an old family storage cellar, located in Chiba Prefecture's Shiroi City, that dates from the Edo Period (1603 to 1868).
Asahi News reports that the entire weapon, which it's calling a "kogatana" (小刀) or "short katana," was covered in rust and measures 11 inches, with the blade measuring 8.6 inches. This reverse-blade, which is also covered with dragon engravings, is different from traditional Japanese swords.