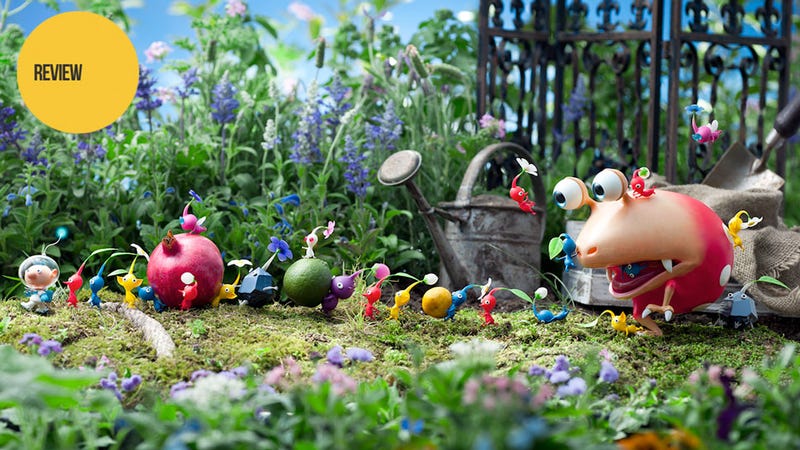 I can't review Pikmin 3 just once. I won't. I'm going to review it seven times.
Before I get to the reviewing, though, let me do some explaining. In case you don't know.
Pikmin games are made by Nintendo and were dreamt up by Shigeru Miyamoto, the man credited with inventing Mario and Zelda. Pikmin came to him while he was thinking about gardening, or so the story goes. It was released in 2001.
When people get on Nintendo's case for supposedly not making anything new for the past decade (not technically true), they cite Pikmin as the last original thing Miyamoto did. This is a Pikmin review, not a treatise on Nintendo and its fans, but let's just agree that that critique is partially a veiled compliment about how terrific the first Pikmin was.
The first Pikmin game put GameCube players in control of a crash-landed spaceman named Captain Olimar. The Captain was tiny. Maybe thumb-sized. He may have crashed on Earth but, for him, flowers might as well have been trees. Bugs and spiders were massive monsters.
Thankfully, Olimar discovered the Pikmin. These little color-coded plant-men could be plucked from the ground and then swarm behind Olimar, ready to be tossed at those relatively massive monsters and fell them like Lilliputians felling Gulliver—and then haul the carcass back to Olimar's space-ship to transform it into more Pikmin sprouts. Red Pikmin were ace fighters; yellows could jump higher; blues wouldn't drown. Oh, and the Pikmin were good at hauling spaceship parts and treasure back to Olimar's ship, too.
The basic flow of the game involved amassing a lot of Pikmin in order to go fight the bad guys and grab treasure, probably losing a few Pikmin in the process, growing new ones, and rushing back into battle again. The whole thing controlled unusually well for what was essentially a real-time strategy game on a console.
Pikmin 1 was great. The look and feel of controlling 100 little minions—of having them climb a giant daddy long legs' legs and peck it to death—was marvelous, macabre, and joyful. So good.
Pikmin 2, released on the GameCube in 2004, was like Pikmin 1, but with some new Pikmin types, tough underground sections and multiplayer.
Pikmin 3 is like Pikmin 1 and 2, but with some newer Pikmin types (pink flying Pikmin! black rock Pikmin!), new multiplayer modes, and a touch-sensitive overhead map rendered on the Wii U GamePad. There isn't one captain/explorer any more. There are three who you can swap through on each map for dividing and conquering. GTA V sure isn't the only summer 2013 game with map-hopping with triple-protagonists. And! You're not collecting spaceship parts any more. Nope. You're collecting... fruit.
On with the reviews of this game...
Pikmin 3 as a Sequel, If You Expect Sequels to Feel New
That's it, Nintendo? Really?
Nine years of waiting and we get two new Pikmin types? Plus a campaign that rolls credits within nine hours and 21 minutes?
And we're still just in gardens? We couldn't have gone to the city? Or had our Pikmin climb through a car? (I think that a swarm of them could shift one in gear, press the accelerator and steer. I really do.)
The solo campaign omits two of the Pikmin types from the previous games to make room for the new ones. We get three new captains and a map on the Wii U gamepad. And HD graphics. We also get a lot of the same sound effects and similar music as last time. We're still restricted to playing only during daylight. Still can't run around at night.
There's no forced end to the game, unlike Pikmin 1 and just like Pikmin 2. You can play forever. But...we're fighting enemies from the older games more than half the time. The bird-snake one, the daddy-long-legs one, all those wobbly round guys with the spotted backs who munch on my little Pikmin.
Was the inclusion of a boss battle mode, 10 discrete timed missions and a competitive multiplayer mode supposed to make up for a campaign that's barely different than the ones before it? We're collecting fruit this time. Wow? That's more interesting than collecting relatively giant-sized versions of real-world objects like batteries and yogurt lids? No. It's less interesting.
Pikmin 3 as a Sequel, If You Expect Sequels to Feel Refined
This is how you polish a video game series! This is how you take all the ideas that were so novel in Pikmin 1 and make a game that does them all better.
Chief Pikmin architect Shigeru Miyamoto was right. He/we/you should feel sorry for those of us who played the first Pikmin. That game's been rendered obsolete by this new one. The original game did the work of being so new. It was the one that was so full of great ideas and enemies and characters. It gave you the ants-slaying-the-elephant feeling.