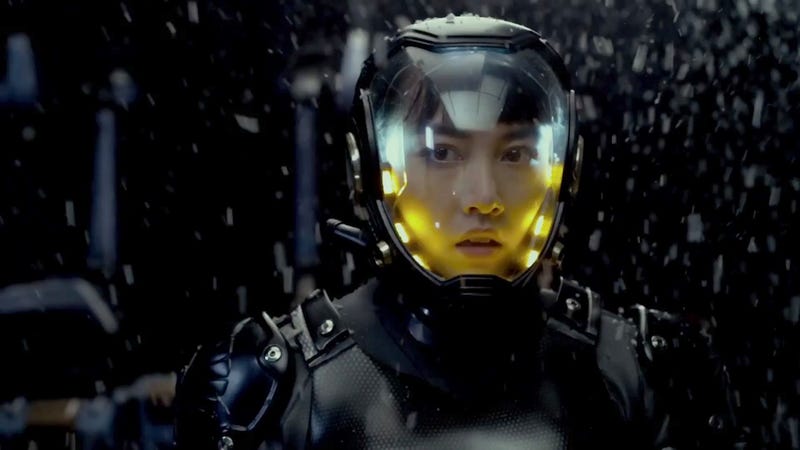 One of my favorite scenes in Pacific Rim didn't involve robots or monsters. It involved a brief exchange in Japanese.
Spoilers follow for Pacific Rim.
I saw Pacific Rim for a second time last weekend. I'd worked my way into an advance press screening a couple of weeks ago, but I wanted to come back and see it again alongside the opening weekend crowds. I also hadn't seen it in IMAX, and I wanted the robots to be as humongous as possible. (IMAX did not disappoint in this regard.)
I was surprised to find that as (literally) awesome as the Jaeger vs. Kaiju fights were the second time around, I actually liked all the human drama a lot more than I did the first time through. On my first viewing, I was distracted by how thin the characters were, how Charlie Day shouted all his lines, and how cheesily Top Gun-meets-Evangelion the interpersonal conflicts felt.
The second time around? I bought into all of it, probably because I knew what was coming. I could look past the hurried, broad-strokes character development and focus on how optimistic and surprisingly humanistic the movie is, despite the fact that it's a blockbuster CGI-fest starring a bunch of giant mechs.
I was also struck by how respectful Pacific Rim is of its roots. When Metal Gear maestro Hideo Kojima wrote of it, "Who are you, if you are Japanese and won't watch this?" he was almost surely reacting to the film's underlying respect for its origins. "I hope you would accept this inspirational love letter that had traveled across the Pacific," Kojima wrote.