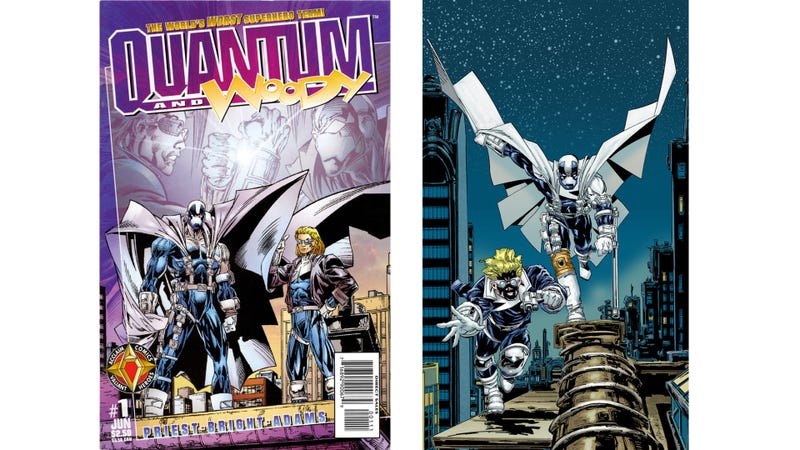 The capes. The gadgets. The weird interpersonal relationships. The goats. Superheroes are straight-up absurd when you think about it. In 1997, a series called Quantum & Woody put that absurdity in the spotlight and won the hearts of, well, hundreds. Probably thousands. Definitely not millions, or else it wouldn't have gotten cancelled. Equal parts hilarious odd-couple sitcom and poignant psychological deconstruction of superhero archetypes, the book only lasted about 20 issues before being disappearing for good. Next year, the World's Worst Superhero team is coming back. No word on the goat, though.
Think of the few heroes whose main raison d'etre is bringing the laughs. Deadpool, Plastic Man, Ambush Bug… who else? There's a reason for the paucity of comedic crimefighters in modern comics. One of the toughest feats in all of comics creation is the tricky balancing act between the power fantasy and improbability of superheroics. Even as they're making you bwah-ha-ha or chuckle ruefully, it can't seem like the writers, artists and editors have contempt for the adventuring happening in the panels of their work. Sure, laugh with the characters, at them or even at yourself. But make things too mean, too dumb or too abstract and everything—the jokes, the action, the metaphors—fall apart. 20 years ago, Quantum & Woody—created by Christopher Priest and artist Mark Bright— was one of the rare comics that got that mix right. Then it sadly, abruptly went away.
The series homed in on emotional ambiguity of real life in a way very few superhero sagas every have. And if you didn't care about that stuff, there were still side-splitting gags in every issue featuring the salt-and-pepper superhero duo. But the stellar execution was only part of the reason that I personally loved Q&W so much.
Christopher Priest was the first black comics creator that I ever knew about. He was the first African-American editor at Marvel and DC Comics, back in the 1980s and 1990s. More importantly, his work dealt with how racial identity acts on interpersonal dynamics and did so in a way that I recognized from my own life. Sometimes, it was bobbing and weaving. Sometimes, it was a series of jabs followed by an uppercut. But the point was he went there. But he wasn't writing polemic commentary; he was writing drama. Priest just managed to find it in a place—the pit of racial misunderstanding and class-centric culture clash—where too many others were too timid to look. Then he stopped altogether, becoming a recluse (sort of like Dave Chappelle) who appeared content to let the world pass him by.
Priest's partner-in-crime on Q&W was another long-time comics veteran, with long runs on Batman, Iron Man, Black Panther and Green Lantern to his credit. The creators had great work under their belts, but when Quantum and Woody launched from Acclaim Comics, no one quite knew what to make of it.