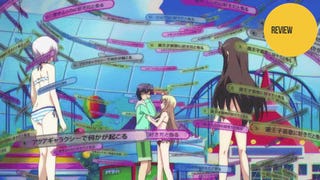 When this fall anime season hit its midway point last month, I knew My Mental Choices are Completely Interfering with my School Romantic Comedy deserved a place on the list of five anime you should be watching. This is because it is easily the funniest anime I watched this past season.
Good – Great Comedic Premise
My Mental Choices are Completely Interfering with my School Romantic Comedy—or "NouCome" as it is commonly abbreviated due to its abnormally long title—is a comedy built on a ridiculous premise. Kanade is your average, relatively attractive high school boy who one day becomes afflicted with the supernatural curse of "absolute choices." Randomly throughout his day he is plagued by sudden multiple choice quizzes—often perverted ones—in which none of the answers are desirable.
For example, he may be forced to choose between eating a discarded porno magazine he has found in a park or rubbing said magazine on his face and sniffing loudly. If he does not pick either choice, he is left in excruciating pain until he does.
Good – Layered Humor
While this premise alone makes for an anime rife with comedic possibilities, what takes NouCome to a level beyond is its use of layered humor. The first is the obvious layer mentioned above—the absurd choice he has to make. The second layer is then actually watching Kanade carry out that choice. The third layer, where the anime really shines, is how the people react to him. Simply put, no one reacts as you would expect—i.e., as they would in most high school anime.
For example, after being forced to ask his friend Furano to touch his "breasts" (the other option was for him to ask to touch hers), she reacts by mishearing him and devolving into a rant about the word "bresticles" instead of a more expected reaction like slapping him or shrieking. It is simply hilarious.