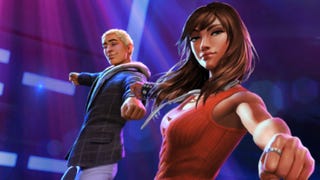 PLUS MORE GAMING SECRETS AND RUMORS: Microsoft loving bees again | Plants vs. Zombies meets Skylanders? | A Godzilla gaming return
---
Last week, Harmonix's corporate domain registrar privately registered a handful of domains including harmonixchroma.com, harmonixchromagame.com, chroma-game.com, chromaalpha.com and chromabeta.com. These domains follow an August 2012 trademark application for "Chroma."
While most of those domains are fairly standard for any game from a major company, one of them—"chromaalpha"—is particularly unusual, and I wonder if might be a hint Harmonix is hopping on the Early Access bandwagon. From Minecraft to DayZ, alpha releases have steadily gained traction in the past several years, affording developers an opportunity to use a community's feedback to readily modify and evolve a game still in the throes of development. Given the philosophical contrast between potentially unstable early versions and closed console platforms, the alpha release scene is unsurprisingly PC-centric, which could perhaps be a bit of a deviation for Harmonix, a company that has never released a game for PC.
Harmonix, which is also currently working on Fantasia: Music Evolved for Kinect, arguably had a bit of a tumultuous 2013. The company had two rounds of layoffs in April and December, citing "shifting staffing priorities" for future projects in both instances. To accommodate the needs of those future projects, the company ended DLC updates for both Dance Central and Rock Band. Additionally, an "unannounced Xbox One Kinect title" Harmonix was working on was cancelled, according to a designer's CV.
The identity of the Harmonix cancelled next-gen Kinect game is unknown, and it may very well be the another next Dance Central (that's art for the series pictured up top, by the way), but I would personally guess it was the next-gen new IP featuring combat. As some may recall, Harmonix, a developer not known for games with combat, was hiring for a combat designer in summer 2012. The job listing said the combat designer was "to create real-time, single-player combat experiences" on "a project that is unlike anything Harmonix has ever done before." That job listing came several months after a Harmonix senior level designer opening for an "innovative new motion-gaming IP" that featured "combat encounters." Of all of Harmonix's projects, this sounded like the riskiest, as Harmonix's ability to make an action game is not yet proven.