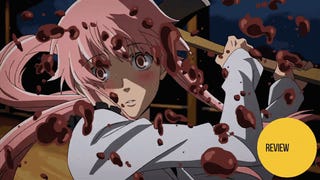 2011's The Future Diary is one of my favorite anime from the past few years. And with the release in Japan of the epilogue OVA The Future Diary: Redial, now is the perfect time to take a look back at what makes The Future Diary such an amazing ride.
Good – A Gripping Premise
The Future Diary is the story of a middle school boy named Yuki who one day finds that his cellphone diary tells the future. But his is not the only one. Eleven other people hold a future diary of their own. There is one catch, however. The last one of them alive will become god.
This is an excellent setup for the show. Not only does it have an interesting sci-fi premise but it also has a conflict that guarantees tense action from start to finish. More than that though, each diary tells the future in a different way—be that how to escape any given situation or everything a certain person does in 10-minute intervals. Thus, Yuki must not only discover who the other diary holders are but also what aspect of the future their diaries show in order to defeat them.
Good – A Yandere Heroine
But while Yuki is the main character of the series, it is Yuno who steals the show. She is smart, beautiful, strong, agile, driven, and a fellow future diary holder. She is also a violently obsessed stalker who is willing to kill anyone around Yuki that could even possibly get in the way of their "love." In other words, she is the quintessential obsessive Yandere.