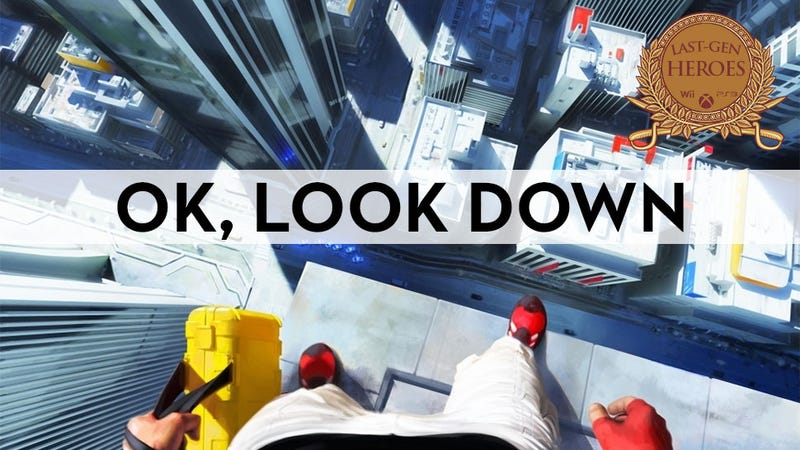 I could write about Mirror's Edge all day. About how much I love it, how important it's been to this generation of gaming. I could talk about its visual design, which remains as fresh and iconic today as it did back in 2009. I could take about Magnus "Solar Fields" Birgersson's wonderful score. Instead, though, I'm going to talk about something a little more real.
Music and colours are the kind of things that hang heavy on your experience of a game long after you've stopped playing, like the scent of a loved one still on a pillow long after they've left the bed.
But while you're actually playing Mirror's Edge, you barely notice them, because you're so busy running around like a lunatic, jumping over rooftops, scrambling up ladders and sliding under air ducts.
While you're doing all that, people will often say "Oh, it's cool I can see my hands and feet", but those are just feedback indicators. Plenty of first-person games let you see your feet. The thing Mirror's Edge did so well was attach them to a body that moved like a human being, not a floating camera attached to an arm holding a gun.
It's something DICE are the masters of. And yeah, there's a physicality to all their recent titles, Battlefield 3 especially, but it's in Mirror's Edge that it feels most real, most heavy.
I hate the way most players move in first-person games. Hate it. The genre is specifically built to immerse you in the action, but its games too often have you slide softly across a room, or zip gracefully in a sprint. Human beings don't move like that!
We lumber. Even our most athletic and graceful specimens - and you're controlling one in Mirror's Edge - take heavy steps and run out of breath. Our vision shakes as we sprint, heads bobbing up and down. When we jump, we don't activate anti-gravity boots, we're leaping off leg muscles and propelling a human body. It's messy, precarious.
The way Mirror's Edge models this so well is what makes it such an important game. Earlier this week I criticised some first-person titles for using this generation's improved hardware as a way to simply turn up the volume. What DICE did with Mirror's Edge, though, was use it to create a way of moving in a video game that had never been done that well before. Or, to be honest, since.