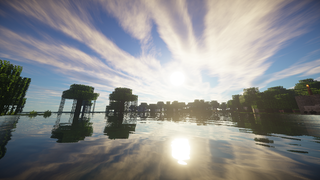 "Sonic Ether's Unbelievable Shaders" is probably the most aptly-named mod I've ever seen.
Top image from Sonicether
There are plenty of mods for Minecraft that change the look of the game, like texture packs that add more detail to the blocks. However, easily the biggest change comes from the shader mod, and Sonic Ether's shader pack for that mod. Shaders completely change the way lighting works in the game to use the more realistic effects you'd see in modern big-budget title. We've written about the mod before, but the latest update is really amazing.