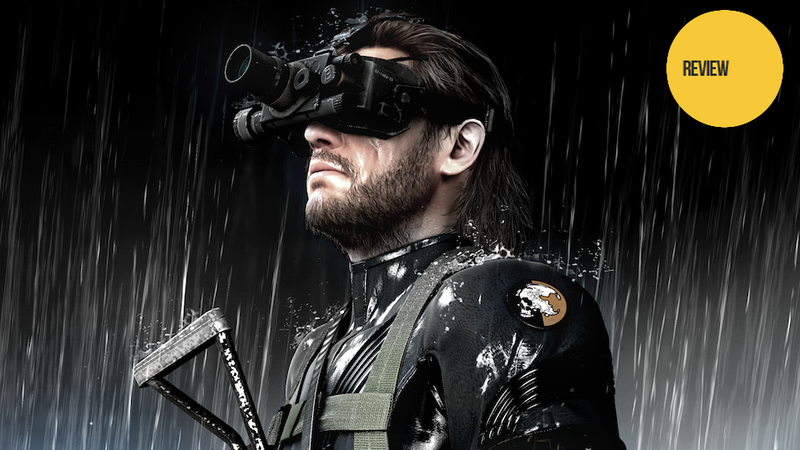 "How can I best describe Metal Gear Solid V: Ground Zeroes?" I asked myself. "Ah, yes. I'll describe it as a small plate at an expensive restaurant."
So, okay, let's do that: You're at one of those restaurants where they serve gourmet food in very small portions. You've been given your entree—a intricate thing that looks as much like an exotic flower as a meal—and you take the first bite. It's delicious! You begin to cautiously dig in, ever mindful of the fact that this… well, this is all there is. Soon it'll be gone, and it's a long wait for the next course.
That's Metal Gear Solid V: Ground Zeroes: An often beautifully constructed game that for all its good ideas and slick execution remains quite obviously a sliver of a larger, more complete game.
Ground Zeroes is billed by publisher Konami as the first part of the Metal Gear Solid V saga. It's even got Metal Gear Solid V right there in the title, and right there on the box. It would be more accurately described as the first, much smaller, part of the saga—the second part will be the allegedly saga-sized open-world game Metal Gear Solid V: The Phantom Pain, which will arrive at some indeterminate point in the future.
In other words, The Phantom Pain will be the "real" Metal Gear Solid V. Ground Zeroes is something smaller and more difficult to quantify.
Both Ground Zeroes and The Phantom Pain tell the story of Big Boss, aka Snake, played this time around by Kiefer "Kiefer" Sutherland. Ground Zeroes picks up a few years after the end of 2010's portable game Metal Gear Solid: Peace Walker and acts as a prequel/mid-quel (is that a thing?) connecting the 2010 game with The Phantom Pain.
Like previous games in the Metal Gear series, Ground Zeroes is a third-person stealth game in which you, with the aid of gear both high-tech and improvised, guide Snake as he sneaks around military outposts and carries out a number of various objectives, all while engaging with or avoiding patrolling guards as you see fit. You can play peacefully, knocking out or dodging guards entirely, or you can play violently, taking down dozens of dudes by using rocket launchers, grenades and machine-guns. The choice is yours.
The story takes place in 1975, a little while after the events of Peace Walker. Two of that game's main characters, a young woman named Paz and a little boy named Chico, have been taken prisoner by a shadowy military group called XOF, its name the inverse of Snake's FOX outfit. Snake is tasked with heading to Cuba, infiltrating a black-site military prison called "Camp Omega" where they're being held, and getting them out.