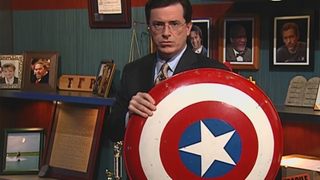 Yesterday, we all found out via women-targeted talk show The View that Marvel Comics' Thor is going to be a woman soon. Today, Marvel says their next big super-hero news will be announced on parody political show The Colbert Report. What Marvel connection could Colbert possibly have?
The safe bet is that they'll be announcing a new Captain America. Why? Because so many of the pieces fit.
First, when Marvel (temporarily) killed Captain America back in 2007, Marvel Comics' then-editor-in-chief Joe Quesada gave Colbert the good captain's famous shield. Colbert's got a connection with Captain America that makes his show a good platform for announcing news related to Marvel's patriotic Avenger.
Quesada is no longer EiC of Marvel. He's now their chief creative officer, which doesn't make him the automatic go-to guy for announcing Marvel stuff anymore.
But—what do you know?—Marvel just put out a press release that states: "Marvel's Joe Quesada will be announcing an all-new comic book title and all-new era for one of Marvel's most classic Super Heroes on the Emmy and Peabody Award-winning 'The Colbert Report' on Comedy Central."
Oh, but "one of Marvel's most classic Super Heroes" could refer to so many other characters, right? It could be The Hulk. It could be the Human Torch. My money's on Captain America, not just because of the aforementioned reasons, but because of what Marvel's actually been doing with the character recently.
Bear in mind that Marvel just announced nine days ago that the current Captain America series is ending and that a new Captain America will be debuting soon.