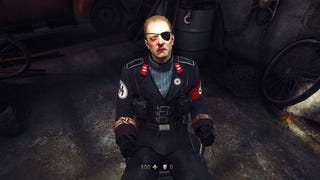 I expected to hate the new Wolfenstein. I wanted to, even. The whole idea of rebooting the Nazi-killing epic for the umpteenth time disturbed me.
I don't remember where I was or what I was doing when I first learned that the Wolfenstein franchise was being brought back to life by a new Dr. Frankenstein—this one in the form of untested Swedish studio MachineGames. But I know exactly what passed through my mind once the information settled in.
"Dear god," I thought, "another Wolfenstein game? Another game about killing Nazis? Another ridiculous attempt at mass entertainment that pulls us further down the rabbit hole of dealing with human suffering and oppression by shooting it in the face? Another excuse to absolve our collective guilt and continued misapprehension about the Holocaust by slaughtering digitized representations of The Third Reich?"
Ok, so maybe I got a little carried away. More than a little. But I stand by the sentiment in theory if not in practice anymore.
Let me explain.
I was born in 1989. This puts me right in the age group for which id Software's 1992 classic Wolfenstein 3D stirs no deep emotions. Doom, the landmark shooter that id released the following year, triggers no feelings of nostalgia either.
Both games are profoundly influential, of course. But while I appreciate that in some intellectual sense, the first major shooter that tugs at my heartstrings is Quake, the company's 1996 classic that made the giant leap into fully rendered 3D environments.
Playing Quake was my train coming at you moment. After seeing bodies burst into chunks of flesh moments after I tapped my dad's keyboard to fire a rocket, I didn't want to do anything else. Though Wolfenstein and Doom were just a few years behind Quake, they seemed insufferably outdated in comparison. Playing them was like trying to sit through Metropolis after I'd already caught a glimpse of Terminator.
Wolfenstein's persistent ability to coax talented developers into rehashing the game over and over again has always confused me, therefore. In terms of World War II-themed shooters, I always preferred Call of Duty and Medal of Honor for the way they captured a Saving Private Ryan vibe. Wolfenstein's campy approach to a similar subject just seemed odd.
As I matured and continued to play more video games, curiosity gave way to boredom. Killing Nazis of all shapes and sizes started to seem like a mundane testament to the game industry's lack of ambition.
Eventually, it started to offend me. After making countless Hoorah-type action movies about crushing the Nazi threat, filmmakers had slowly but surely shifted towards more complex and disturbing inquiries into the horrors of the Second World War. The same thing happened in literature and the fine arts. Couldn't video games do the same thing?
Apparently not—at least in any major way. Instead, action movies featuring ass kicking, Nazi-killing Jews like Inglourious Basterds and Defiance started to pop up, suggesting that Hollywood had grown tired of the pathos of Schindler's List-style Oscar bait and wanted to give the Wolfenstein approach a go.
That's not a bad thing necessarily. But I'm a Jew who lost a portion of my family to the Holocaust. Video games' continued inability to give any voice to the Jewish experience has begun to frustrate me. The fact that Kotaku editor Stephen Totilo just barely got Wolfenstein's creators to admit that iconic protagonist BJ Blazkowicz was "of Jewish descent" didn't make me feel any better. And the overwhelming Übermensch vibe that MachineGames gave off in an extended profile prior to Wolfenstein's latest release felt a bit, well, scary.