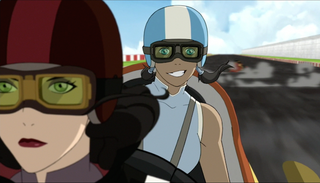 The Legend of Korra drew to a close last week with a series finale chock-full of drama, suspense, sacrifice, and last-ditch heroics. And then, when the dust had settled, something truly wonderful happened.
Hey! Spoilers for the end of The Legend of Korra follow.
Of all the things that happened during the final half-hour of The Legend of Korra, one thing stands apart: That final shot of Korra and Asami holding hands, heading off together to the Spirit World, clearly in love. Did that really just happen? Was it intentional? According to the show's creators, it was indeed intentional, and the pairing of Korra and Asami was something they'd been working on for a while now.
Our friends over at io9 have already written a really good recap of the finale, breaking down the action as Korra and team Avatar took on Kuvira and her Earth Nation army and battled to save Republic City. It was a good finale, and while I kinda thought it rushed through some character stuff w/r/t Kuvira and her similarities to Korra, it still felt like a fitting finale to a show that started weak but got much better as it went.