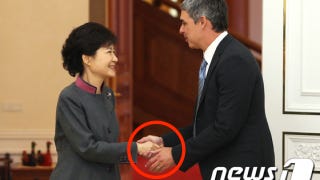 Last week, Bill Gates caused a brouhaha in South Korea because of the way he shook hands with President Geun Hye Park. In the wake of that, Google co-founder Larry Page schooled Gates on Korean manners.
Page was in South Korea late last week to visit Samsung's OLED factory for about an hour and have lunch at the company's offices, where he chatted with Samsung about OLED displays and the newly released Galaxy S4.
Then, Page met with South Korean President Geun Hye Park and talked about venture culture and education, among other topics. The above photo was released after the meeting.