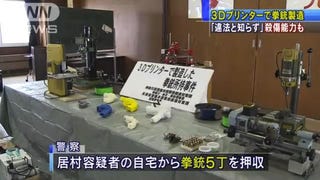 A twenty-seven year old Japanese man was arrested on suspicion of printing and possessing guns. This is the first instance of such an arrest being made in Japan.
According to ANN News, Yoshitomo Imura allegedly downloaded gun blueprints from a foreign site and then printed the resin guns with his 3D printer.
Imura had apparently uploaded videos to YouTube in which he fired off what looks to be a 3D printed pistol. Last month, police seized five 3D printed guns from Imura's Kawasaki City home.