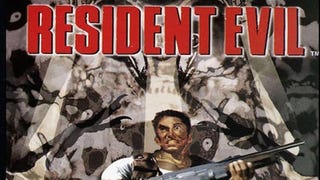 Plenty of games have been touched up and altered as the years went on, but few games have seen as many changes as the original Resident Evil.
This piece originally appeared 1/19/15.
Ports of old games are common, but what's interesting about Resident Evil is how often Capcom has actually censored, changed, modified, and added new material across its various iterations.
Thanks to Project Umbrella and the Resident Evil wiki for helping to fill in my memory gaps!
Our story begins with the English version of Resident Evil, aka Biohazard in Japan.
Resident Evil (PS1 — 1996)
Not only one of the best horror games ever made, Resident Evil is an all-time great video game.
For what's widely considered one of the scariest games ever made, especially for its time, Resident Evil opened with a super cheesy FMV sequence. The scene was considered too violent for American players, however, resulting in content changes (newspaper clippings instead of dead bodies, removing scenes with disembodied hands) and making it black-and-white:
The violence wasn't the only issue with the opening, either. In the Japanese version, Chris Redfield is briefly seen smoking. This was ultimately removed from the American version.

The game's first big scare also found itself on the chopping block. When players come across their first zombie, the game cuts to a CG bit where the creature's eating their colleague, Kenneth. In the Japanese version, the zombie drops the person's head. This was edited out.
Resident Evil: Director's Cut (PS1 — 1997)
The popularity of Resident Evil prompted Capcom to quickly issue an altered version of the original game, while it worked on a sequel. In Director's Cut, Capcom was supposed to restore the "uncensored" for players outside of Japan. Due to a "localization error," it somehow shipped with the censoring. This was before the days of patching, forcing Capcom to live with the mistake, but it eventually made the original FMV available as a download on its website.
Capcom even had to change the box art. Originally, it was this:
Then, Capcom removed the "uncensored" bit.
Oops.
As for the game itself, Capcom introduced a "Beginner Mode" and "Arrange Mode." The former was to give players an easier time with the game, while the latter remixed enemy and item placement for players to have a new experience while replaying the game. The game also introduced new outfits for the playable characters, an updated Beretta weapon capable of randomly killing an enemy with one shot, an auto-aim mechanic, and a new new enemies.
Perhaps most importantly, it also included a demo of eventual classic Resident Evil 2.
Resident Evil: Director's Cut: Dual Shock (PS1 — 1997)
This was a quick re-release (the same year!), which introduced rumble support for Resident Evil. However, it also featured a new soundtrack from composer Mamoru Samuragouchi. You might remember Samuragouchi as the deaf composer who apparently wasn't actually deaf.