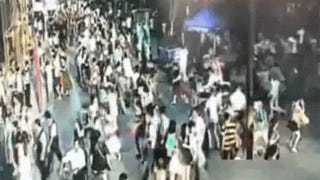 This weekend, crowds dispersed at a busy shopping area in Shenzhen, China after there were rumors of a knife attack. False alarm, say official reports.
According to Shenzhen Daily, the panic was caused after police received phone calls of a slashing incident at Dongmen Pedestrian Street, one of Shenzhen's busiest. The area sees nearly half a million people daily.
Shenzhen Daily reports that the incident was caused by a mental patient who pushed over a shelf in a train station shop. The chaos resulted in Laojie Station being temporarily closed, impacting over twenty commuter trains.
Via Sohu, here you can see closed circuit footage of the ensuing panic.
Hopefully, no one was seriously injured or trampled.
As Kotaku previously reported, recent stabbing and terrorist incidents have the country on edge, with the Chinese military stepping up security. As The Nanfang and SCMP point out, there have also been reports of false knife and bomb attacks in Guangzhou and Chengdu, which certainly haven't been good for people's nerves.