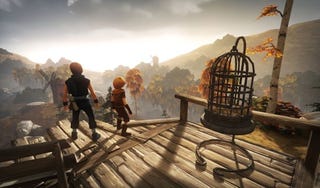 Do you remember the moment when you learned how to play video games? When the joystick or the gamepad stop being a foreign object and started feeling like a part of your body? Maybe you do; maybe you don't. Brothers: A Tale of Two Sons is a game that puts you back in touch with that sensation, using an unorthodox control scheme to make you feel like your relationship with video games is starting all over again.
Note: Last year, a small, unassuming indie game came out during the summer doldrums, bringing a fairytale art style and unconventional control scheme to players everywhere. By the time 2013 was done, Brothers: A Tale of Two Sons was part of Game-of-the-Year conversations all over the internet. It's a game that stayed with me ever since I finished it so I wanted to re-share my nomination essay from Kotaku's 2013 GOTY discussion. And, if for some reason you haven't played Brothers yet, go do it.
Developed by Starbreeze and Swedish filmmaker Josef Fares, it's a fairy tale that asks "what if you weren't good at video games anymore, but really needed to play one that was filled with shining sadness and melancholy sweetness?"
For me, Brothers scrubbed away thirty some-odd years of video game experience, kinesthetically speaking, and made it so that I had to learn all over again how to trust that my fingers knew what to do. It uses a mechanical decision—where each analog stick on a gamepad controls one of the game's siblings—to express the sometimes harmonious, sometimes fractious dynamics of a relationship with someone you love. As you play, sometimes one brother will push ahead while the other lags behind. You'll move a puzzle element so they can go on separate paths or so they can come together to surmount an obstacle.