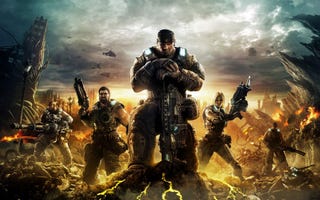 Francis is the closest thing to a hardcore gamer I have in my life. He's the kind of guy that bought a DualShock 4 controller on a lunch break before the PlayStation 4 had come out just so he could hold it. Buying the PS4 over the Xbox One was a calculated decision he can justify many, many times over.
So when he asked if he could stay on my couch one weekend while he was attending a wedding for one of his cousins, I knew that saying "yes" meant that we'd be playing some serious video games. It was just a question of which ones. We only had a few hours by the time he got back on Saturday night, so we had to choose wisely.
I hadn't really started playing Titanfall yet, so I wanted to try that. Francis had gotten into that game early on his PC, but he was curious to see how it measured up on the Xbox One, so he consented. We would take turns.
I booted up the game on my Xbox One.
"I'm excited to finally see this," I said, tensing up my shoulders. The anticipation for Titanfall had been more than breathless.
"It's pretty cool," Francis said.
We were greeted by an "update required" message.
"God dammit," I looked down at my phone. We were supposed to meet friends at a bar downtown in two hours or so, which gave us maybe an hour to actually play anything.
"Uhh…how about Plants Vs. Zombies?" I asked, picking up the Garden Warfare box. Francis gave his assent without looking away from the screen—of the TV or his phone, I can't remember which.
Another loading screen. Dammit again. Then another. And another. We thought about switching to the PlayStation 4 to play Killzone.
"Fuck it, man." Francis said finally. "Let's just play Gears of War."
I was more than happy to oblige. A few minutes later we were fending off waves of clammy white zombie-looking monsters called Locusts, enthralled in the routine spectacle.
"I feel like that's kind of sums up the next-gen experience so far," Francis said, laughing. We were both pretty giddy, the way we always get when we start playing the game's horde mode. "Let's just Gears of War instead."
That could easily describe my experience with the new Xbox and PlayStation. I enjoy the ambitious work that's beginning to come to the two consoles. Titanfall and Plants vs. Zombies: Garden Warfare have already won me over in particular.
But switching the allegiance of my go-to shooter of choice is a much more involved process than being wowed by impressive visuals and new types of gameplay. It's something that will only happen gradually as developers and players alike settle into the new hardware. So for the time being, I keep being pulled back into Gears of War.
Gears of War 3, specifically. And it's not even that whole game, though I do play through Marcus and Dom's entire saga whenever I find a friend who will go along with me. That doesn't happen very often anymore, however, so really what I end up playing is the game's horde mode—an ongoing challenge where giant monsters are thrown at you in increasingly overwhelming amounts. You're only change is to beat them back. All of them. Unlike many other types of shooters, horde mode isn't about winning anything. It's about surviving, a constant endurance test to see how long you and whoever you're playing with can remain alert and on top of their shit.
I keep playing Gears of War because I see no reason to stop. The series has been out for almost eight years now, and I still haven't gotten tired of shooting my way through the same challenges—even the same maps. The morning after we tried to play Titanfall, my roommate and I started playing a round of horde while Francis packed his bags. Hours later as the sun started to set and Francis was well on his way back to Chicago, we were still playing.
The game is so finely tuned that by the time creator Epic Games took a third lap around the development track for Gears of War 3, it was near perfect. Everything in the game just fits so well together. Staring down one of the game's giant bazooka-wielding enemies known simply as a "Boomer" while the friend sitting next to you screams to hold on until he can get back to cover feels just as invigorating today as it did in high school and college. The same goes for that rush of adrenaline that comes every time you land an instant kill with the torque bow, the game's powerful but slow-aiming futuristic longbow.
Partly this stubbornness is brought on by the obstinacy of the crowd. People don't cross hardware generations in a single, unified leap of faith. They trickle across slowly as they're won over by the beauty of promises delivered or the pestering of insistent friends. Very few of my game-playing peers have gotten the PlayStation 4 yet, and even fewer have bothered with the Xbox One. Whenever I bring up the best games on both systems, therefore, they often fall on deaf ears.